This article comes to help those who struggle finding the fastest WordPress themes, and want a clear, argued and unopinionated recommendation. Load time is known to be one of the most decisive factors in predicting how successful a website is meant to be. According to research conducted by Google back in 2018, up to 53% of the users who access websites via a smartphone end up dropping the site if the load time is higher than three seconds. But this pattern is far more general and is present on all the devices with browsing capabilities. This creates a real need for faster websites because, in the end, a slow website will negatively influence the conversion rates and the time on site in general.
Top 10 fastest WordPress themes
For those in a hurry, below are the top 10 fastest WordPress themes. The rest of this article is dedicated, in a sense, in explaining why those WordPress themes are the fastest. Also, I've tried to underline some general guidelines I follow when looking for the fastest themes. Last but not least, I advocate in the article about the need to make compromises. When you're searching for the fastest WordPress themes, they might not look pretty.
GeneratePress: probably the fastest WordPress theme out there. What's so nice about them is that they offer this theme for free. Their premium product is actually a tailored plugin for the GeneratePress theme, that adds additional functionality to the theme along with more customization options.
Genesis: an old, robust and mature WordPress theme and one of the fastest around. Again, it's a minimalistic WordPress theme. The reason why it deserves second place is that it's a great example of what I believe to be an over-engineered WordPress theme. For Genesis, you need the Genesis Framework + the default child theme. Also, some custom plugins if you want more customization. Overall, it's just more complicated than GeneratePress and I think with this, the StudioPress lose a fair deal of the market segment composed of bloggers that want something clean, minimalistic, content-centric, dead-easy to use and maintain.
What makes a WordPress site fast
1. A lightweight WordPress theme
The fastest WordPress themes are the ones that are the smallest, in terms of size. This discussion can be more nuanced, depending on the way we define speed. Do we speak of the apparent speed or real speed?
The apparent speed of the website: By this, I understand the amount of time needed for the website to appear fully loaded and ready to use. Let me give you an extreme example: suppose we make the part of the website that's above the fold (what you first see on the screen without scrolling) load incredibly fast. Until the user finishes reading what's above the fold some time will pass…precious time, in which we can load what's below the fold. And although this might take pretty much, we gave the appearance to the user it loaded instantly. Going one step further, we can make the website in such in way it will load only those things that are actually visible to the user. For example, this website lazy loads the images – it will load an image only when it's visible to the user (its vertical displacement corresponds to the position of the scrollbar – this can be actually computed in JavaScript so it's fairly simple).
The real speed of the website: This is the total time needed for the website to fully load a page (asynchronous requests and all).
In this article, I will cover WordPress themes that are on both sides of the spectrum. Some are very fast, in real terms, because they are lightweight and every resource that composes them is optimized in such a way to take as little space as possible (for example they don't use images for styling, only CSS rules). Some will apparently be very fast as they implement various tricks on how to make the website appear fast.
2. A smart caching mechanism
WordPress is written in PHP (HyperText Preprocessor). Preprocessor means that first, that PHP thing is first executed on the server, builds some fancy HTML in a dynamic manner and later sends all that HTML along with the additional stuff that makes your website not look like a '90s replica. What's the problem with all of this? It's done every freaking time. Meaning that when you refresh the page, the browser, no matter how smart it is, cannot know in advance if something changed on the website. But the website knows what has changed on it. So why not take advantage of this…
All the caching plugins work with the above principle in mind, that instead of doing all of that black PHP magic, better create a bundle with all the HTML and other fancy things and if nothing has changed, just serve that bundle instead. Much better (-: The morale of the story: read more about caching plugins.
3. Lightweight resources that load blazingly fast
If you use stock photos at the highest quality and highest resolution don't expect your website to load and be fast. That's because these resources are, in practical terms, huge, in comparison with, basically everything else. A 4000x2000px photo doesn't really make sense if you're displaying it on a page that's 800px wide. In this case, the browser will rescale that picture for you, which is a slow process and download it fully, to make things even worse.
Other, overly-complicated animations and fancy behaviors on your website will, in the end, slow it down, no matter how much you try to optimize this. If you want the fastest website, you need to make compromises, to let something go. You need to think in terms of what the users actually need, and what you're doing to satisfy that need. Do the users need fancy functionalities? If no, then why bother keeping them? IMHO, there should always be a time when you need to first think about functionality before everything else.
My recommendation is to use compressed resources and formats that are very memory-savy:
WEBP format for images (WEBP is supported on WebKit based browsers, like Chrome and Safari).
If you're using Apache, make sure you have the GZIP compression enabled. This will compress the response from the server before sending it to the client on the network.
Compress Javascript and CSS files! You can use a plugin for this one, like Autoptimize. This plugin offers advanced options for compressing Javascript and CSS files, but also fine-tuning of the time these resources load.
Try using web-safe fonts. These are fonts present on most operating systems, so by using them, you assure maximum compatibility. The reason they're faster it's because they are system fonts, so we don't need additional resources, like Google Fonts or custom font faces to use them. To name a few, examples include Arial, Georgia, Times New Roman, Verdana, Helvetica, Courier, Palatino, etc.
The fastest WordPress themes
Scalia
With up to 1.3 seconds in load time, Scalia is one of the most minimalist yet fast WordPress themes you can try out also in 2020. It has been tested from San Jose, being faster than 84% of the scanned themes that were up for discussion. If you own a business, you'd want to check this one out.
2. The Gem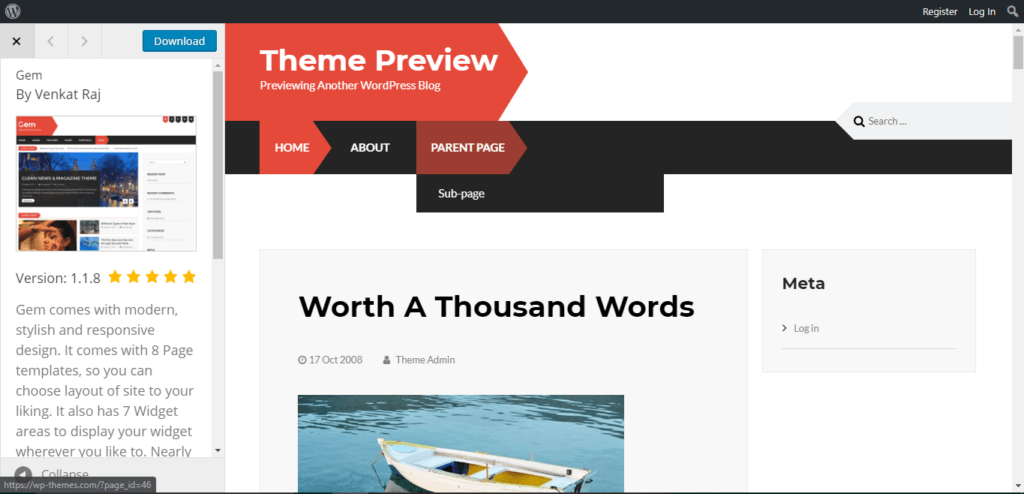 Nothing compares to a flawless image of a website than a responsive theme. The Gem fits the mold, making it to the top with only 1.85 seconds of load time. According to its dependencies, it features up to 70 demos and most famous plugins such as Visual Composer.
3. Top SEO
Keeping it simple is one of the key matters in today's society. Among all, Top SEO is a great pick for any website that is mostly concerned with SEO. The load time is up to 4.39 seconds, yet this WordPress theme has no extra plugins – but it does have a page builder specially crafted for gaining extra speed. If you have plain content, that's one theme to go for.
4. X Theme
Plugins make the X Theme a special one to look for among the WordPress ones. Visual Composer, Corner Stone and many others are just a simple sight, along with other widgets to choose from. It loads in 4.84 seconds but proved to be perfect in many categories, except at static content. That's why the 9.8 MB of page size requires that much load time.
5. Udesign
Get ready with the simplest design ever using Udesign. This WordPress theme is fast enough to be a great choice for website building, taking as much as 2.95 seconds in load time. Among the offered features, you can choose a slider or parallax background – but there are not that many to choose from. Still, if you want to keep it simple, that's the right one to go for.
6. Skylar
Shorten the load time as much as possible with Skylar, one of the most iconic WordPress themes which makes a great match for any plain website's appearance. Together with Visual Composer and Slider Revolution, you can make the best out of it from the very beginning.
7. Adaline
Manage the appealing of your website in a stylish way using Adaline. This WordPress theme has a load time of 1.05 seconds and fits perfectly any website that is photography and image oriented. Moreover, it sets everything up in a great and loving manner.
8. Grille
Create a neat look using the advantages obtained from the Grille theme. With only 3.35 seconds in load time, you'll get the most tile look, together with an e-commerce shop. There are also a bunch of short-codes from which you can choose.
9. Wanium
Discover the benefits of a fast website using Wanium. In less than 2.6 seconds it is completely loaded, but it's important to mention that the look is a standard one. Nonetheless, the performance insights are right on point – all perfectly high.
10. Genesis Framework
Might look not that fast in comparison with the rest of the presented WordPress themes, yet it requires only 4.28 load time to be fully completed. What's interesting about this one is that it features plenty of plugins, child themes and services, together with special modifications that you can always do on your own.
11. The 7
The 7 is a ready-to-buy WordPress theme specially crafted for either business or individual's website. It features an amazing slideshow or a plain image. Its low load time of 3.39 seconds is available to be used for only $39.
12. One Up
Show off any video you want on your website by providing it with the accurate load time of 1.56 seconds using the One Up WordPress theme. It can be all yours for $44, together with a bunch of flawless features – services sections and animations.
13. Harbor
Get access to plenty of premium themes using a membership to Theme Beans. Once you get one, you get the chance to try our Harbor. This is worldwide renown as a great WordPress theme which loads in 3.2 and requires $59 for a single theme and between $99 and $239 for multiples.
14. Structure
Discover the benefits of a great WordPress theme using Structure. In just 2.29 seconds, the page loads from head to toe, all for a price of $59. As soon as you get it, you'll get Templera and Essential Grid.
15. Top News
There's no WordPress theme as perfect as Top News. With 100 ranking, it made it right to the top with a load time of 1.32 seconds. You can have it for $49 with all of its features perfectly organized to simply arrange the content.
16. Unite
Provide your website with the cleanest approach using the Unite theme. With a load time of 2.14 seconds, you can have it all for just $29. It perfectly fits any blog type, multi-column or even full page websites.
17. Paperio
Discover the benefits of the social sharing options with Paperio, one of the easiest WordPress themes found on the market today. It has a load time of 0.565 seconds and a price of $49. On top of that, it is great for websites that are business oriented.
18. Milana
Decide upon the unique layouts offered by the Milana theme and provide your website with the necessary features to make it to the top. For only $39, you get to choose between either 2 columns, portfolio, masonry or many others.
19. Implicit
Implicit is a WordPress theme perfectly set up for new sites. It can help your website obtain ratings in just a blink of an eye, with the help of a hover. The price for purchase is $49 and the load time does not exceed 1.9 seconds.
20. Astra
Probably one of the fastest and worldwide renowned WordPress themes, Astra is a 920 ms load time option to take into consideration when deciding to go for a business theme. It is taken up by more than 200,000 users from all around the world – and more than 1500 users gave it a rating of 5 stars.
21. KnowAll
Get a professional and super fast WordPress theme by choosing KnowAll. This amazing option is filled with great features that can be found right within the theme, such as translations, widgets, user feedback, inside analytics and even file attachments that are completely downloadable. Its load time is 759 ms and the price starts at $149 – but it completely fits any business like models.
22. Avada
During the past few years, Avada kept its best seller position and managed to get an impressive customizer. It makes one of the best choices for websites that are business oriented, having a load time of 234 ms and a price that starts at $60.
23. SmallBiz
Nothing fits a small business better than a theme like SmallBiz. With its flawless animations and built-in slider, this one features a load time of 2.38 seconds for a price of $49. All in all, it's a great business model to start from.
24. Total
The basic needs of any website can be filled in immediately using the Total theme. It is a total WordPress match, featuring an amazing slider which generates the best outcome in a blink of an eye. You can have it at a price of $59 and a load time of 1.49 seconds – and that's totally worth it.
25. Interior Pro
If you're looking for a theme that fits an interior design firm, remember that Interior Pro is the one to go for. Due to its load time of 3.09 seconds and price that starts from $99.95, it is fast enough to generate the basic requirements of today's marketing industry.
26. WowWay
Build the nicest and most appealing online shop using the WowWay WordPress theme. In just 1.69 seconds, you get the full image of the website, not after paying the price of %59 for single themes and between $99 and $239 for multiple ones. Moreover, it has an amazing layout that features impressive little options to choose from.
27. Electro
Electro makes the best WordPress theme for online electronic stores. Whenever you are looking for one in this category, make sure to have $59 available in your bank account for a theme that loads itself in no more than 0.349 seconds – that's faster than a blink of an eye.
28. Motor
Organize either your auto or e-commerce shops online fast and easy using the following WordPress theme. Motor has a great layout, making it look rather like an online catalog that features a bunch of interesting aspects. It loads in no less than 6.21 seconds and requires $59 to be paid for it.
29. Stockholm Shop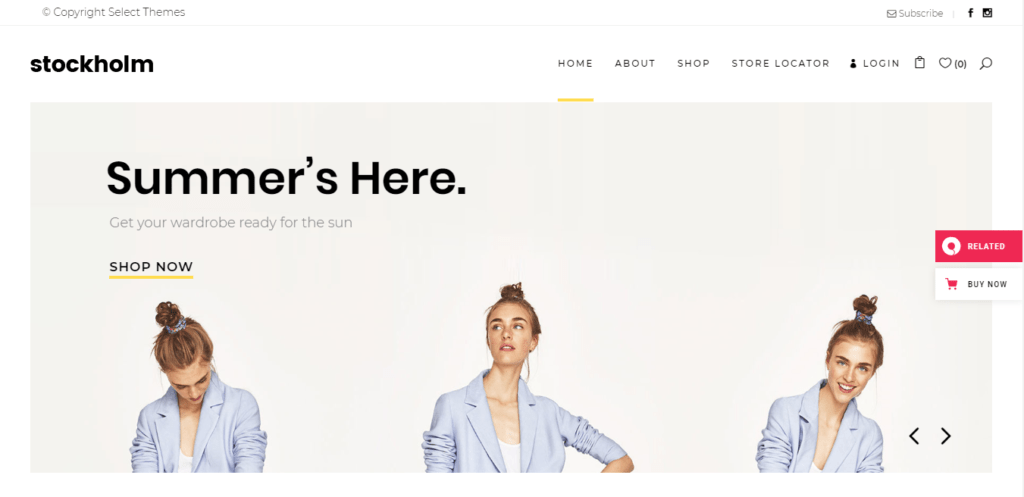 Get a bit of the Northern look using the Stockholm Shop. This impressive WordPress theme covers demos which are related to anything from restaurants, architecture and many more, including shops. Among the included features, you get a language translator, wish list and store locator. Technically speaking, it has a load time of 3.51 seconds and a price of $59. Trust us, you'll love it from the first try.
30. Schema Shop
The Schema Shop WordPress theme is interesting enough, having two sides of the story on the same page – the main page on the left, and a shop on the right. Regardless of how well things are being organized in there, it is low on options that are meant to increase the level of performance – and one of this stuff is lazy load. The theme can be bought at only $59 and requires a load time of 1.69 seconds.
There's already no need to mention that the load time of your website is most directly influenced by the theme that has been chosen for it. Among the ones we have already presented, there are countless ones specially crafted to fit the mold and attractive enough since most come free-of-charge. Even so, page speed is highly taken into consideration for the long run, since it determines the well-known bounce rate.
By definition, the bounce rate is calculated by measuring the number of visitors (seen in percentage) that decide to leave a website right after they have seen a single page that is being displayed on your website. And the numbers are quite skyrocketing, which also feels not optimistic at all.
According to another study conducted by RocketFuel, the bounce rates found among websites vary, from 26% to 70%. This is not an optimistic approach either since most of them are highly linked to the mobile optimization issue. Out on the Internet, numerous websites are not optimized for mobile use yet, a fact that can be easily translated into visitors going to drop off. Thus, decide you won't be one of them – and start by choosing one of the fastest website themes in 2020, able to fulfill all of your website's needs and requirements. These being said, what are you still waiting for? Have you already managed to make your choice?